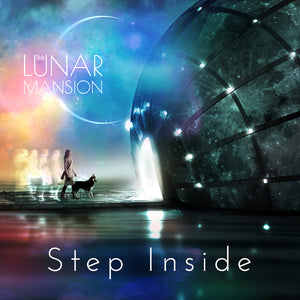 Natalia Krause is the lead singer and main creative force behind This Lunar Mansion, a Galway recording band. Its music is constantly evolving, experimental pop-rock. Exploring themes of healing and emotional well-being.

This Lunar Mansion was born out of Natalia Krause's decision to finally follow her childhood dream of living a creative life. It allows her, along with her fellow musicians, to reach for the joy and authenticity that can be too often repressed in today's world.
This special download includes mp3 and wave files of songs, 2 poster stills from the video and 'Melancholia's thoughts' pdf.
1. Step Inside
2. I wonder
3. Aeolian
4. Lascaux Horse
5. Lascaux Horse-video version (dance mix)
EP was released March 7, 2019

Recording, arrangement, mix, mastering and production by Terry Merrick at Origin Studio,
Dublin, Ireland 2017-2018

Musicians involved in This Lunar Mansion:

Miyuki Katsu-Maloney - piano/development (Japan)
Tony Mlecka- guitar & consultation (Czech Republic)
Barry Duffy-drums/drums recording (Ireland)
Terry Merrick- bass/guitar/synthesizer/production (Ireland)
Natalia Krause-vocal (Poland/Ireland)

Writing and composition:
Ciaran Parkes-lyrics (Ireland)
AkirSon-co-composer (Poland)
N.Krause- lyrics/co-composing

Photo cover/art
Doan Trang/Ciaran Parkes/Radek Molinski


all rights reserved Natalia Krause