PRE-ORDER MUSIC ALBUM today!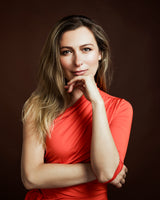 Emerge yourself in experimental music, feel your emotions, find your joy and your inner peace.
Natalia Krause is a singer & mindfulness teacher. She is a creator of This Lunar Mansion, an online artist who loves variety. In her music, she combines experimental pop-rock with  jazz and classical elements, which are deeply rooted in the feeling of unity with everything, looking for a cultural connection and emotional expression.
Her musical inspirations are artists like Sting, Marillion, Tori Amos, Sade, Kasia Nosowska, Kasia Kowalska, and instrumental music by Joe Satriani and Ryan Farish, just to name a few. Artistic inspirations come from the multi-cultural city of Galway, on the Atlantic Ocean. This is where Natalia spends a lot of time meditating, creating melodies and just letting the present moment show itself as it is.
At the moment she is in the process of finishing her debut album 'From chaos to joy' in English and Polish language. She also helps adult children to reclaim their creativity, express emotions through Mindfulness, Movement & Music.
PRE-ORDER NEW ALBUM 'FROM CHAOS TO JOY '
Listen in English & Polish | PosŁuchaj polskie single
This Lunar's Mansion Inspiration for you
Everybody wants this Lunar Mansion but nobody can have it.
This Lunar Mansion is for each of us. It is ours. It is something inside.
It is where we put ourselves in the Cosmos...
We all make our mansions-some above ground, some below.
But we don't build cities. We gravitate, we orbit. We interact.
Everybody wants to reach their Lunar Mansion
but you can't cheat the distance that exists rocketing ahead in an oddly named stardom
It's the journey.
It is finding the Entrance to This Lunar Mansion that you have built.
We need to find a key and explore these different rooms and see different possibilities
That might involve writing, painting or singing
Whatever gets you there genuinely. A magic carpet or flying boots.
You choose.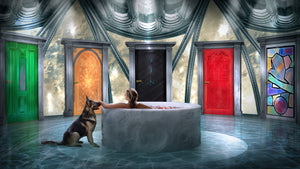 'FROM CHAOS TO JOY' - WHAT IS Natalia's ALBUM ABOUT?
'Natalia's music is like a magical journey that she takes you on. Her musical influences are many and I love the way she weaves new world sounds, with 80's punk strong and confident in her track 'My Anger' and jazz influences with beautiful piano playing in 'Ludwig and Elisa' that is also light and playful. Her lyrics are like poetry, honest, strong, and full of emotion that you feel allowed to enter into her world, and she welcomes you in! Not just as passive listeners but to be an active participant in her Soul journey. Natalia weaves so beautifully her Polish/ Irish-Celtic mix living on the very edge of Europe. Her album feels both new and ageless, its music that you instantly like and know you will love it as you listen more, finding more depths. This album is like a book, each song a mini story complete on its own but part of a much greater whole… as Natalia's searching Soul, blends with your own search internal and external. It's an album for life, a backdrop to keep listening to and finding more and more each time… It's an album of inclusion ...as you feel she has shared with you. Truly work from her Soul and is so worth listening to.'
Siobhan M Kelly https://www.siobhanmkelly.com/about
'FROM CHAOS TO JOY'

Coming soon!
Testimonials
Natalia's Krause new album is a delightful journey into the
depths of your own soul. From 'Aeolian' that connects us to the power of a new
choice, through 'Anger', that will help you reach to this powerful energy of "no", to the phenomenal bonus track 'Make a date to meet the sun' -
Natalia's voice is rich and vibrant and connects you deeply to a deeper layers
of yourself. 

Pati Garg, author of "Year of Awakening" www.patigarg.pl
"So many good songs on this album. Really love the honesty of the lyrics and how dynamic and new it feels yet comfortable, easy listening. Natalia's beautiful energy shines through on each song. Highly recommend this great first album by such a talented artist !"



Niall O'Floinn, Galway Latin Dance & Chen Tai Chi Ireland, www.latindance.ie
This is a creation that will bring you to all sort of places.  Expect unexpected. Natalia's voice is powerful and will bring you to places of love, pain, sorrow, hope. Just listen. What happens to you when you listen to 'Aeolian' or 'I wonder where you are'? 'Lascaux horse'? or 'Fear of unknown'? 

I got shivers while listening to 'Aeolian'...

Ania Świstoń, Gestalt psychotherapist
Thank you, thank you very much for 'Lascaux horse' song. The most I appreciate is your strong, powerful voice. Amazing. The mood of the song is engaging, a bit hypnotic but that's through your voice. An enchanting track.
The composition is wonderful. Melody flowing floating behind your voice.  A song that has its own atmosphere. Very good
composition frame of the video. I personally like the second part of the song best. This is my musical vibe. I am waiting for the next songs to come out as it would be very sad if they didn't.  I find
this song full of sincerity and commitment.

R.Klimczewski, engineer